Boomerang Shakes up Loyalty and Advertising Industry with Launch of New Rewards Platform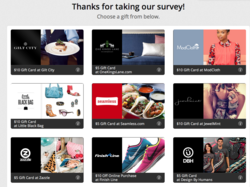 Chicago, IL (PRWEB) April 23, 2013
Boomerang, a social gifting company that turns brand promotions into viral marketing campaigns, today launched its new rewards platform to increase customer loyalty and engagement: Boomerang Rewards.
Coming off the heels of the success of the companys recently launched Brand Campaign platform, Boomerang Rewards is designed to help online publishers better engage and monetize their users through free gift card rewards. Unlike traditional loyalty programs that require an upfront investment, Boomerang Rewards allows brands to give their customers promotional gift cards from top online brands (free of charge) and earn revenue per redemption.
We experienced tremendous success helping large online retailers generate off-the-charts conversion rates by offering small gifts to customers, said Zach Smith, CEO of Boomerang. Our new Boomerang Rewards platform appeals to the same consumer psychology people love receiving and gifting gifts. We saw an opportunity to turn that into a way for any web-based company to reward their users for various actions and drive loyalty. Whats unique about our offering is that our partners profit each time the gifts are redeemed.
Boomerang chose four launch partners across multiple industries media, online surveys, gaming, and recruitment to pilot the new rewards offering.
In many cases, Boomerang Rewards launch partners achieved: