Cause Commerce via Mobile Wallet Could Spark New Mega Trend in Mobile Commerce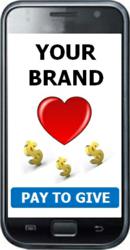 Aliso Viejo, CA (PRWEB) September 05, 2012
Today Mobile Wallet Media spotlights what may be yet another Mega Trend featured by the news media organization. Cause Commerce via the Mobile Wallet will be a powerful tool, not just to drive customers to retailers and keep them coming back, but it could also make a big dent in local and worldwide poverty. The Founder and Chief Editor of Mobile Wallet Media, Randy Smith, says Causes tied to commerce have long been proven to spark and power 'Word of Mouth' marketing and build customer loyalty, but the Mobile Wallet will Super Charge Causes tied to Commerce. It will make support for causes and donations go viral, in like manner to Social Media.
Community Fundraisers have, until now, been limited to tying transactions to a payment card, but with the mobile wallet, shoppers may support the cause of choice and use any payment method. Gone too may be the limitations of Traditional School Fundraiser Cards. With no limits on payment method or the number of merchants or causes participating, the possibilities are unlimited, as is the potential for fundraising. postulates Smith.
Just last week LevelUp, a mobile payment startup out of Boston, announced they were the first mobile payment app to enable users the ability to give a portion of their merchant-funded reward to charity. Smith says, This is a Sneak Preview of the future of Mobile Commerce paired with Causes.
Smith comments on LevelUps new service, I think being first here says a lot about the company founders vision and possibly his heart for charity and people in poverty. Seth Priebatsch has displayed ample vision and boldness to lead the charge for his company.
Seth Priebatsch, founder of LevelUp, told Mashable, We think theres a really neat opportunity to redesign payments for the first time in 60 years. The ability to bake in supporting your favorite causes and philanthropic groups into transactions, gives people the opportunity to really do good without having to think too much about it.
Of course, electronically tracked, via payment card, Cause Marketing programs and networks have been around for more than a decade. Escrip, Rainbow Rewards, Upromise, Macys and Target all have a history of giving back and are clear examples of Cause Marketing programs done right.
A follow up article to this release has also been published by Mobile Wallet Media. Smith shares a bit more of his heart and vision for the future potential of Cause Commerce, including how it may work to transform, not just commerce, but may even tame profit-centric Wall Street a bit.
Smith shares a key insight from this article All things being, equal in a marketplace where the new standard requires sharing of abundance, makes not doing so a losing proposition as customers will take their business where Cause Commerce is embraced. A retailer or mobile wallet not fully engaging this model will surely pay the price of sales lost to their direct competitors."
http://www.prweb.com/releases/2012/9/prweb9869144.htm