Just Released: Income Sources Encyclopedia the First-Ever Guide to Everything from Starting a Business, Free Money, Donating Sperm and More (AddIncomeSources.com)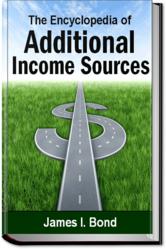 Thousand Oaks, CA (PRWEB) October 24, 2012
For the millions of Americans who are searching for ways to find additional income for themselves and their families, a new Encyclopedia of Additional Income Sources is now available online at http://www.AddIncomeSources.com.
Unlike individual opportunity listings, this is the first time someone has compiled every major income source into a single directory, including a checklist of simple ways to avoid getting scammed.
The comprehensive guide comes with more than twenty short videos, covering hundreds of part-time and full-time opportunities people could use right away, and includes contact information and Internet links for hundreds of the resources mentioned.
Written and compiled by Jim Bond, former Workshop Chairman for the resource partner of the U.S. Small Business Administration, and past president of a major consultancy and advertising agency it claims to meet a universal need people have, of learning whats really available, with specific details on how to get their piece-of-the-action without getting burned by the numerous scams and frauds just waiting to separate you from your money.
The income sources run the gamut from the simple to the sublime.
Sections include: