National Math Council Focuses on Equity: Identity and Power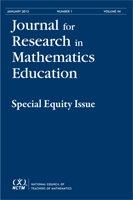 Reston, VA (PRWEB) February 06, 2013
A special issue of the Journal for Research in Mathematics Education (JRME) focuses on equity at the intersection of research and practice in mathematics education. The Special Equity Issue has been published by the National Council of Teachers of Mathematics (NCTM) as the January 2013 issue of JRME.
Articles in the equity issue are intended to maximize discussion of equity and provide an opportunity for professional growth. Among other topics, articles explore racism, sociopolitics, the white male math myth, language diversity, and social justice, in relation to an overarching theme concerning the dual issues of identity and power.
This unprecedented collection of equity articles grew from the Councils identification of equity as one of its strategic priorities, said NCTM President Linda Gojak. Over the last 20 years, equity has remained a burning issue in mathematics education. It is one of the foundational principles of NCTM, and these articles are a significant contribution to the research literature.
The Special Equity Issue includes peer-reviewed articles from established and emerging scholars that showcase a variety of theoretical perspectives and conceptual tools, challenge readers to think differently about issues pertinent to mathematics education, and reflect a balance of research topics and contexts.
Teachers, parents, and researchers who think deeply about learning care about more than just giving students access to a high-quality curriculum or closing the achievement gap, said Rochelle Guti