Smaller Businesses' Marketing Efforts Hampered by Increased Marketplace Fraud, Email Scams Warns NASBP Accredited Business Center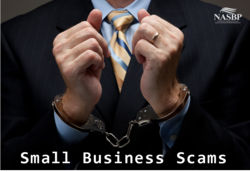 New York, NY (PRWEB) June 28, 2013
As the Federal Trade Commission continues to report an alarming increase in the number of business scams and fraud complaints being filed, the NASBP Accredited Business Center has issued a marketplace advisory today, alerting the public of the growing threat that these increased scams are having on America's smaller businesses.
"Scammers posing as reputable small businesses continue to rob the U.S. economy, hurting cash-strapped, smaller business owners' efforts to effectively promote themselves with more affordable marketing tools, such as email marketing and online paid search ads," according to a marketplace advisory statement issued by Kimberly Kelly of NASBP's Accredited Business Center.
"Since the data being reported by the FTC's Consumer Sentinel Network shows a marked increase in fraud encounters through methods like email marketing, telemarketing and online marketing, smaller businesses are really feeling the impact that these scams are having on their ability to generate more leads and grow sales. We're calling on consumers, business owners and organizations that regularly do business with smaller businesses to protect themselves by choosing smaller companies that go the extra mile to be reputable, professional, transparent and third-party accountable."
According to the Federal Trade Commission, marketplace scams were responsible for depleting the U.S. economy of over 1.4 billion dollars last year, with 2012 marking the first year that it received over 1 million marketplace fraud complaints.
—
About the NASBP Accredited Business Program
The NASBP Accredited Business program is a free service provided to premier members of the National Association of Small Business Professionals. It provides newer small businesses with the tools needed to establish credibility, build trust and grow more sales. It provides buyers with the reassurance and peace of mind that they are doing business with a small company that cares and is committed to professionalism, integrity and service excellence in their business practices.
About the National Association of Small Business Professionals
Since 2009, the National Association of Small Business Professionals has made it its mission to help small business start-ups to not only succeed in business, but to SOAR. As the "new kid on the block" in the arena of small business associations, NASBP is proud to offer start-ups a value-packed, low priced alternative to more expensive membership association options. To learn more, download a free Member Benefits Guide at http://www.Join-NASBP.com.
Contact Information:
Kimberly Kelly

http://www.NASBP.us

212.726.1913